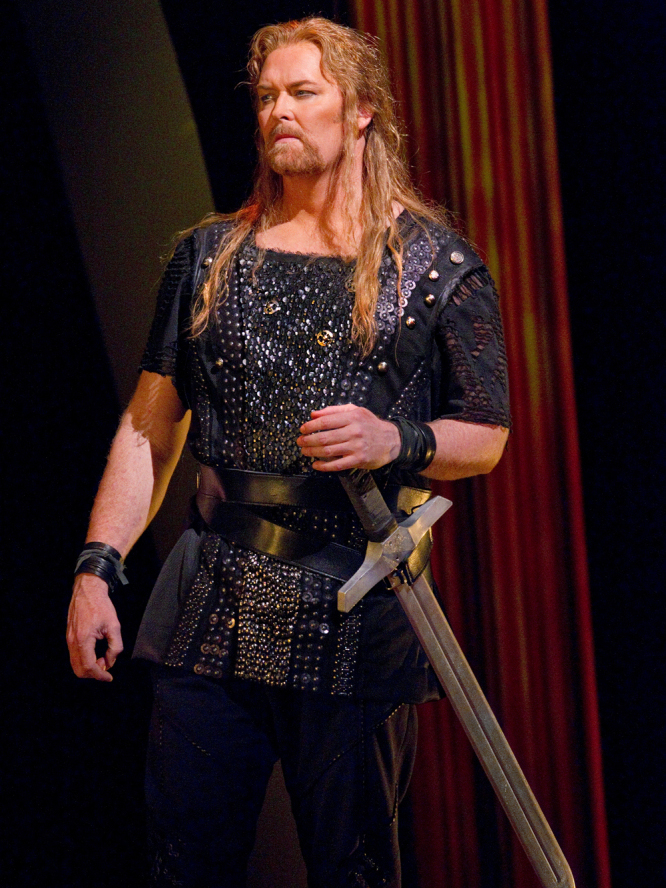 In the pages of this month's "Vogue" magazine, an article on tenor Jonas Kaufmann ("Lord of the Ring") that also touches on other members of the Met cast, including tenor Jay Hunter Morris (pictured, in the photo from NPR), who just had a spectacular run as Captain Ahab in the San Diego production of "Moby-Dick."
Vogue writes: "Kaufmann isn't the only performer in the Ring cycle whose journey to the Met's stage has had mythic overtones. Last October, the American tenor Jay Hunter Morris found himself living out an archetypal legend, albeit one that was more 42nd Street than Götterdämmerung. Morris grew up in Paris, Texas, the son of a Southern Baptist minister and a church organist, and spent his childhood singing in the choir. In college, he performed country songs during happy hour at a steak house in Waco. But when he saw a Dallas Opera production of La Traviata, he fell in love with the art and, with the fearlessness of youth, decided to make it his life's work."
And now, a Texan finds himself singing Siegfried at the Met.  There's a more complete version of this charming anecdote in a story that appeared last month on NPR.  Read it right here.
In other news from the Metropolitan Opera, it's been announced that Latonia Moore, who is starring in the Dallas Opera's production of "Aida" next season, will make her Metropolitan Opera debut IN THE VERY SAME STARRING ROLE this Saturday afternoon, March 3rd, at noon Texas time – catch it live from the Met on WRR, Classical 101.1 FM.
What a great sneak peek at what we can expect here on the Dallas Opera stage!
And speaking of sneak peeks: DO come out to this Sunday's LIGHTHOUSE Sneak Preview event, starting in Hamon Hall at 3:00 PM.  The experts, the production team and the stars as they unravel Peter Maxwell Davies' eerie masterwork, opening in a new Dallas Opera production, in partnership (our first ever!) with the Dallas Theater Center.
In other matters…BE SURE TO SEEK OUT THIS MONTH'S EDITION (Oh, sorry, I'm shouting) Be sure to seek out this month's edition of "Art + Culture" magazine with the Dallas Opera's new chamber opera, THE LIGHTHOUSE, on the cover.  Outstanding story by Gregory Isaacs.  "The Lighthouse" opens in the Wyly Theatre at March 16th for three performances and marks the opera debut of DTC Artistic Director Kevin Moriarty!
Tickets are going fast. 
Suzanne Calvin, Manager/Director Media and PR