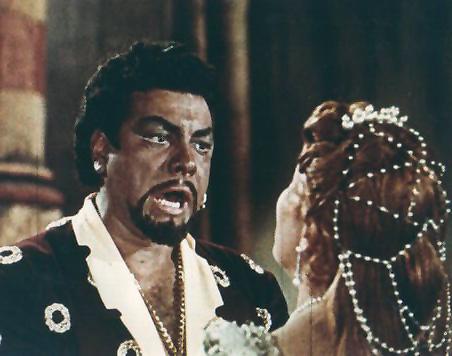 (Mario Lanza as the Moor in "Otello."  Photo courtesy of freeradical.co.nz)
You missed a good one.  Yesterday evening, The Dallas Opera hosted the first installment of the "Cosi and Koozies Lecture Series," an outstanding panel discussion on Verdi's "Otello" and the problem of domestic violence.  It did NOT disappoint.  Led by moderator Chris Shull ("Opera Now," "Star-Telegram," "Opera) with popular UNT professor and frequent Dallas Opera lecturer Dr. Stephen Dubberly and Jan Langbein, Executive Director of Genesis Women's Shelter, the discussion focused on the familiar patterns and "cycles of violence" traceable in Verdi's moving masterpiece (the building of tensions, the explosion of violence, the reconciliation phase) and how it remains applicable in domestic situations today.
While some in the audience questioned Desdemona's seeming resignation to her fate, others found more fight in the lady as she attempted to defend herself against Iago's lies and the fatal jealousy of her husband.  In any event, as Ms. Langbein pointed out, women far from home in centuries past had nowhere to turn, no "women's shelter" to rescue them in the event of family violence.
Dr. Dubberly, on the other hand, delved into the mature musicianship of Verdi revealed in this masterful retelling of Shakespeare.  All three panelists agreed that, in her own way, the character of Emilia (Iago's wife and Desdemona's servant) is the most interesting in the opera, because of the tightrope she's forced to walk in her personal life and the courage she shows, in the end.
All this, on the heels of a terrific and fabulously well-attended kick-off to "Cosi Fan Tuesday at The Capital Grille"  (we're still hearing how jazzed people were at this event) and the first of our free movie screenings connecting to the productions of the upcoming season.  In this case, it was Shirley MacLaine and Yves Montand in "My Geisha," about art, artifice, and self-sacrifice.  A few of the themes that parallel "Madame Butterfly," the focal point of this early 1960's lost classic.
We have an exciting slate of events for July that includes the movie "Closer" with Julia Roberts, Gwyneth Paltrow, Clive Owen and Jude Law; a wedding cake and Champagne tasting and lots, lots more.  Check out the calendar for details and do let us know what you thought about this opening round of casual summer events. 
We're all ears!
Suzanne Calvin, Assoc. Dir. of Marketing, The Dallas Opera